1. Houston Astros
The Astros shocked the industry last June when they bypassed Appel in favor of Carlos Correa- so even with the first overall pick there is no telling what they will do this time around. With the three million dollar bonus they saved on Correa they were able to pan their pool money out and secure elite talents like Rio Ruiz, Nolan Fontana, and Lance McCullers. This strategy worked very well so I don't see why they wouldn't try it again. The Astros shortlist probably looks something like Appel, Gray, Bryant, Frazier, and maybe even Kohl Stewart. But unless Jeff Lunhow decided to go way off the board the ultimate decision should come down to Gray or Appel. Early rumors are indicating that the Astros will go with Gray who might not command the full seven million dollar bonus allotted with pick 1-1. For me, Gray is also the best player in this draft as his fastball grades out as a 75 and his slider as a 70, whereas I see Appel as having a 70 fastball and a 60 slider. There is a chance that they could get really wacky and turn to Kohl Stewart, the top high school pitcher in this class and a Houston native. However since a high school righty has never been taken first overall in the history of the draft, I don't see this a very likely. Plus, this isn't exactly the time for the Astros to get cute.
2. Chicago Cubs
Chicago has by far the easiest choice in this draft. It pretty much comes down to whoever Houston doesn't take between Gray and Appel. Either would be great for Chicago, but Appel would be a match made for heaven. The Cubs minor league system is oozing with bats, but still remains light on impact arms. Appel has been dominant in his senior campaign at Stanford. He also always had the stuff to be an ace, but now he is harnessing it better than ever. His demeanor on the mound looks better than ever too. This will work great for both sides. Theo will get an arm to build his dynasty around, and Boras will get the money that the Bucs wouldn't pony up for Appel last summer. There is even talk that the Cubs would be willing to strike a pre-draft deal with Appel and offer him over slot, forcing the Astros hand to take Gray.
3. Colorado Rockies
This is a big pick. It is probably the linchpin of the whole first round. There are so many directions that Colorado could go, but I think they will turn to Kris Bryant out of San Diego. He has clearly established himself as the best hitter in this draft. He is well on his way to earning the Golden Spikes Award and has posted a slash-line of .338/.496/.876 while leading the county with 30 home runs. Bryant is simply a big kid with big time power. What he might do playing half his games at Coors Field is pretty scary. However where he will end up defensively is still up in the air at this point, no pun intended. He plays third presently, and has made some strides this season, but there is at least a 50 percent chance that he might have to move to first base or possibly even right field down the road. But with top of shelf power, that gets an 80 grade from some scouts, it really doesn't matter where he plays in the field.
4. Minnesota Twins
The idea of Austin Meadows or Clint Frazier paired with Byron Buxton in a Twins outfield is something for Twinkie fans to dream about. While this idea is tantalizing, the Twins are in desperate need of pitching. I have a feeling that it will come down to Braden Shipley, Sean Manaea, and Kohl Stewart. The industry consensus is that Stewart is the premiere prep arm in this class. . Stewart is extremely athletic and has a very projectable body. He is also a force on the gridiron and committed to play quarterback at Texas A & M, but with Mr. Heisman blocking his way, I think there is a pretty good chance he never steps foot on campus. Stewart's arsenal features a fastball that he can notch up to 96 and a plus slider with excellent bite. He did not throw his changeup regularly in high school and it shows, it is presently a bad offering. Despite lacking a third pitch, Stewart is still a bonafide first round talent.
5. Cleveland Indians
If Bryant falls here Cleveland would swoop in and take him in a heartbeat. If not they might go after Braden Shipley. He is not as sexy of a pick compared to Meadows or Frazier, but he still has plenty good value. He has surpassed Manaea as the the third best college pitcher on a lot of teams boards. Shipley has an impressive three pitch arsenal that includes a fastball, change up, and curve. His fastball sits between 92-94 and he has bumped 97 this year, but his change up is an easy plus pitch and one of the best in this class. Shipley is a converted shortstop and his athleticism helps him out on the mound. But his lack of experience also shows sometimes. Colin Moran will also be considered here.
6. Miami Marlins
It is important that the Marlins make a statement in this draft, they need to give their fans some hope. They could go the high school route and take either Stewart, Meadows, or Frazier, but I think that will go with Colin Moran if Cleveland or Colorado doesn't snatch him up first. Moran might just be the best pure hitter in the draft and has a long
track-record
of performing. He has racked since arriving on campus in 2011, but this year has been by far his best. Moran is currently hitting at a .366 clip and showing more pop than ever by connecting for 13 homeruns through his first 54 games. Moran's bat is so good that he is a near lock to be drafted in the top 10, a team that likes his chances to stick at the hot corner might pop him in the top five even. I
foresee
him moving to first however. His arm is strong and he fields what is hit at him pretty well, but his feet are glacier slow. I don't think he has the mobility to stick.
7. Boston Red Sox
I can't believe that Frazier and Meadows are still on the board at this point, they ranked second and fifth on my board, respectively. However, with the way things are lining up I think there is least an even chance that both of them are still here. The Red Sox aren't used to picking this high and the last time they had a pick in the top ten they went with Trot Nixon. This time around, I think they will go with Clint Frazier, another dirt dog. Frazier is an electric player, a mix of tools and grit rolled into one. With his red hair and high intensity, it looks like he is literally playing with his hair on fire. Most scouts swear that Frazier has the best bat speed they have ever seen. His hands and massive forearms give him pretty big power potential, although it seems like he is already taping into it as he has been basically homering in every game he has played. Frazier has pretty good speed, but he does not have as good of a chance to stick in center as his cross-town rival Austin Meadows. Ultimately I see him sliding over to right where his arm should be plenty good enough. The Sox have connections here too, as their scout Tim Hayers was Frazier's neighbor growing up. If Frazier is not here, they will hopthat either Shipley or Moran falls to them.
8. Kansas City Royals
Kansas City would also like a starting pitcher, and might be the kind of club that would take a chance on Sean Manaea, a guy who entered the year as a potential 1-1 candidate. He has been solid this year, throwing between 90-94 with good fastball life from the left side, but he was not the same guy who took the Cape by storm last summer. He has also been dealing with a hip and foot injury, so that might have led to the decreased velocity. Manaea touched 97 and posted a ridiculous 85-7 BB to K ratio in just over 50 innings of work. He also threw a plus slider that has been more of a fringy pitch this spring. Manaea will be the biggest wildcard in the draft, and every team that didn't think they would have a shot at him heading into the year will be scrambling to see him down the stretch.
9. Pittsburgh Pirates
There is no way that Meadows gets past here. He could easily go in the top five, maybe even top three, but I think he might slide a bit.
Meadows's combination of size, tools, and likelihood to remain in centerfield give him more upside than any player in this class. However, his spring has been only solid at best. Meadows swing can get to long at times and he often locks his arms, and pitchers at the next level will be able to exploit that with a healthy dose of fastballs in at the hands. Meadows is a boom or bust guy. His ceiling however, is that of a five tool player who could anchor the middle of

a big league line up.
10. Toronto Blue Jays
Toronto has always loved to snag elite prep talents, and I don't see why they wouldn't stop being aggressive now.
Trey Ball, the best two-way player in the draft. Ball would would likely be a first round pick as an outfielder, but he has a chance to go in 10 on the mound. The towering lefty has shown impressive velocity for a southpaw, as he has been up to 94 this spring. Balls repertoire also includes a reliable change and a curve that he has shown he can spin for strikes. What is most impressive about ball is his athleticism and projectability. He stands 6'6" and weighs just over 180, leaving plenty of room to add strength and even more velocity Unlike most giants, Ball has had success in repeating his delivery and throwing strikes.
11. New York Mets
The Mets could go in any number of directions, but I think they will go a high school bat. One of the best pure hitters in this draft is Dominic Smith. While some teams might be scared off because he is a first baseman, I do not think he is limited their. He has a rocket arm that can touch 93 off the mound, and has played all over the diamond including behind the plate. He has played some outfield of late, and he would profile extremely well in right if he can learn how to get better jumps. It is his bat however, that makes him really special. Smith is only 6'0", but he possesses a textbook swing and very quick hands. Smith has been red hot of late and has flashed plus raw power. He squares up on everything that is thrown to him and uses all parts of the field. He has the potential to be a .300 hitter. If you told me Smith would turn out to be the best hitter in from this draft, I wouldn't be shocked.
12. Seattle Mariners
The Mariners will have a tough choice between two extremely toolsy collge bats in Austin Wilson and Hunter Renfroe. But Renfroe has been the best hitter in the best conference all season long, leading the SEC in virtually every offensive category. Renfroe possesses 70 raw power that is finally showing up in games this year. He is slugging .781 in 2013 after doing nothing in his first two years at college. Power is his calling card, but Renfroe can run too. He could be a threat to steal 15-20 bases annually With his rocket arm he fits the bill in right. If Renfroe can hit like he has this year, which is no guarantee, he is an easy top five talent.
13. San Diego Padres
The Padres will be tempted to go with a power high school arm here, but I foresee them taking JP Crawford if he is still on the board. In a year where shortstop are few and far between, Crawford stands head and shoulder above any of his draft-mates His actions are extremely fluid and his range is pretty good, so he should be more than adequate at short. Crawford is a spray hitter and has shown that he is more than willing to go the opposite way with pitches. He should be at least an average hitter, but I think his power will come more in the form of doubles and triples than home runs Crawford has good baseball lineage too, he is a distant cousin of Dodgers outfielder Carl Crawford.
14. Pittsburgh Pirates
Pittsburgh would be thrilled to land Reese McGuire here, as he regarded by most as the best among a deep class of high school catchers. McGuire is in the discussion to go as high as number four overall to the Twins, so this would likely be his floor. McGuire is a defensive minded backstop with the potential to hit some too. In many ways his game is not dissimilar to Austin Hedges in terms of his skillset. Behind the dish McGuire has a cannon arm and a quick release and has continuously recorded pop times under 1.85 seconds. He calls a great game too. With the bat, McGuire has not always hit, but last year he hit .400 for the U.S. National Team that won a gold medal in Seoul. Even if McGuire is a below average hitter, he is still a solid everyday catcher because his defense is so special.
15. Arizona D'Backs
I see the Diamonbacks adding a bat with their first pick. They could target the sweet-swinging New Mexico third baseman, DJ Peterson. In his collegiate career, Peterson has done nothing but rake. Peterson has everything you would want in a hitter; strong hands, a quick bat, and a smooth swing. He can make adjustments during an at bat and even when he gets out he hits the ball on the screws. The knock on Peterson is that a move across the diamond to first base is almost certainly in his future. While this will hurt his value quite a bit, I am confident that he will continue to hit enough to still warrant a pick this high.
16. Philadelphia Phillies
This may come as a surprise for some, as Alex Balog is widely regarded as a 2nd-3rd talent by most, but the Phillies are reportedly so
enamored with Balog that they are considering their first pick on him. With that said, the Phillies may be on to something. Balog has generated a lot of helium lately. The towering 6'5" righty has a fastball that he can notch up to 95. He has been pitching with more confidence lately and has flashed an above average curve and slider.
17. Chicago White Sox
The White Sox have always loved hulking athletic outfielders, so both Austin Wilson and Aaron Judge would make some sense here. Wilson, was a highly touted prospect out of high school, but fell because of signability concerns. His time as a Cardinal has had its shares of ups and downs. At times he has flashed monster tools that have caused some scouts to liken him to Giancarlo Stanton. However, he career at Stanford has been marred by injuries and he has not always performed up to his full potential. At his best however, he shows a rocket for an arm, hits for plus-plus power, and gets great reads on ball in the outfield. He is easy to dream on. Strikeouts however have always been a red flag for him. Wilson also missed the first five weeks of this season with an elbow injury, but if he gets hot down the the stretch he could push his way into the top 10.
18. Los Angeles Dodgers
At this point the Dodgers will have a slew of high upside arms to chose from. With their deep pockets, they might be a match for Kyle Serrano. Serrano's father is the head coach at Tennessee and it would be hard to pry him away from school as he is a recruit there. Serrano has three above average pitches in his repertoire with his curve being his best offering. As expected, he has had a lot of exposure to the game and has a great feel for pitching.
19. St. Louis Cardinals
The Cards might take a chance on Arkansas righthander, Ryne Stanek, who entered the year as a consensus top 5 talent but has seen his stock plummet over the course of this spring. At his best he flashes a fastball that he can run up to 98 and a power slider in the 84-86 range. He has a great pitchers frame but his mechanics are pretty poor and he struggles staying on top of the ball. If a team thinks they can fix this, they might take him earlier. Unfortunately for Stanek, their has been a few games this year when his stuff has just vanished. After some of those outings, scouts have said they wouldn't touch him in the first round. He won't fall out however, because his ceiling is that of a two starter, which is too valuable of a commodity in this weak draft class.
20 Detroit Tigers
In the past the Tigers have often snagged flame throwing high school arms, but I have heard them linked to Aaron Judge, an outfielder from Frenso State. The Tigers system is pretty thin on impact talent, so Judge would be a good fit for them. Judge is a physical specimen, standing 6'7" and weighing 255 pounds. You read that right. If he were to make the majors, he would be the biggest outfielder since Frank Howard. For a big guy he can run too, he actually plays centerfield, though he is destined to move to a corner at the next level. With near elite raw power and a plus arm however, he will profile well in right. The power is the most interesting tool. In batting practice he hits the ball a mile, but the same power doesn't always play in games. While he has made consistent contact in his collegiate career, he will probably rack up a lot of strikeouts because of his long arms. If the Tigers choose to go with an arm, Hunter Harvey, Kyle Serrano, and Phil Bickford might be on their radar.
21. Tampa Bay Rays
The Rays will have a plethora of high shcool arms to choose from and they are all in on Ryne Stanek, bit if he doesn't get their I think it will actually come down to two stud catchers; Jon Denney and Nick Ciuffo. Even if he isn't a lock to stay behind the plate, Denney's bat has the potential to anchor the middle of a big league lineup someday Think Wil Myers, albeit the light version. Denney is a strong kid with has simple balanced swing that should lead him to hit for contact and power. He does need to tone down his approach a little bit though. Denney has slid down a lot of teams board of late because his receiving skills behind the plate have been so poor this spring. If a team thinks they could work with him, he could go in the top 15.
22. Baltimore Orioles
The Orioles have also expressed interest in a catcher, Nick Ciuffo. Ciuffo is the happy medium of Denney and McGuire, he is solid both defensively and with the bat. His receiving skills and soft hands are especially impressive. Ciuffo plays with a ton of energy. It is edgy at times, but you need that edge to be a catcher. Ciuffo shows enough pop to put up double digit home run totals on a yearly bases. His swing is short and compact.
23. Texas Rangers
This pick is wide open for the Rangers right now. For now I am going to go with Phil Ervin out of Sanford. I saw him last summer break out on the Cape, and he carried his success into this season. Ervin has a nice power speed combination and he could be a 15/15 threat at the big league level. Ervin has short arms and a compact swing so he should hit for solid contact. Unfortunately, he has been sidelined at times with an ankle injury so scouts are not sure if he can stay at center. If he can't he is still a safe bet to make the big leagues and his floor is that of a fourth outfielder. If he reaches his ceiling, he would profile as a future number two hitter and stick in center.
24. Oakland Athletics
Since the beginning of the Money Ball Era, the A's have almost exclusively drafted college and Junior College players, but they bucked trend and went with Addison Russell last June, which has payed huge dividends so far. Assuming that was a one year fluke, they might go with Chris Anderson, the top JUCO pitcher in this class. At the beginning of the year Anderson was touching 96 and in the conversation to go in the top 10 or 15 picks. While his velocity has come down a little since, he is still plenty worthy of a first round pick. Anderson arsenal also includes a plus slider and an improved changeup. He projects to be an innings eater at the back of a big league rotation with a peak of a three starter some years.
25 San Francisco Giants
The Giants have always had success developing pitching, and they should have a wide range of young arms to choose from with this pick. Hunter Harvey will be especially intriguing to teams because he is deadest on signing a pro contract and will probably sign under slot. Harvey has great baseball bloodlines too, his dad was Bryan Harvey, the former Angels reliever. Harvey has an extremely high ceiling, some think he might even be good enough to be a number two starter down the road. He can dial his fastball up to 97 and spin a plus curve. but it will be extremely important for him to develop a third pitch for him to stick as a starter
26 New York Yankees
As consolation for loosing Rafael Soriano and Nick Swisher, the Yankees will have three first round picks in this years draft-more than any other team. The Yankees have been linked to just about everyone this year, but it is well known they are interested in local kid Rob Kaminsky. At just 5'11" Kaminsky is very undersized, especially for a starter, but he makes up for it with big time stuff. Kaminsky throws a knockout curve that is probably the best in this draft class. He compliments it with an above average fastball, one that sits in the 91-94 range with some life. What stands out the most about Kaminsky however, is his bulldog approach on the mound. Like a lot of prospects from the North East, Kaminsky has a chip on his shoulder.
27 Cincinnati Reds
If Phil Bickford falls do the back end of the first round, the Reds would appear to be a perfect fit for him. His fastball is a near elite pitch. He can dial his velocity up and down and can rear back to reach 97 at times. Bickford possesses the ideal pitchers frame at 6'4" and could add even more velocity as he continues to fill out. He throws from a three-quarter arm slot that creates great life on his heater. His offspeed pitches unfortunately are not on the same level yet as his fastball. At this point, his slider and change up are probably slightly below average offerings.
28 St. Louis Cardinals
This pick kicks off the beginning of the supplemental rounds, and the Cardinals appear to be extremely high on the sweet-swinging Bill McKinney. McKinney has a very impressive approach at the plate for a high school player and his swing miht be the prettiest in this draft. McKinney should hit for a very high average and with some pop. He is not an exceptional athlete but he helps compensate for this by leaving all or his energy on the field. If the Cardinals decide to go the college route, Ryan Eades, Aaron Blair, and Marco Gonzales would all be viable options.
29 Tampa Bay Rays
Few pitchers have had more helium of late than Alex Chi-Chi Gonzalez. The Oral Roberts ace sits comfortably in the low 90's and has pretty solid control. His arsenal also includes a plus cutter and another above average offering in his slider. His stuff will not blow anyone away, but just about every team likes Gonzalez as a potential mid-rotation starter. If everything breaks just right he could be a little more than that, maybe even a number two. If the Rays choose to go another rout they will consider Marco Gonzales and Tim Anderson.
30 Texas Rangers
Oscar Mercado entered the year as a potential top 15 pick, but he hasn't hit this spring and has fallen down draft boards. In fact if he has any chance to go in the first round it would be here, because Texas appears to be the only team linked to him in the first round. While Mercado's ability at the plate has been called into question, no on will argue that he has a special glove. His actions are fluid, his arm is plus, and his footwork is sound. He will have no problem sticking at short. The Rangers could take a chance and hope that Mercado is still available for their second pick, and in that case they could take Josh Hart and Travis Demeritte.
31 Atlanta Braves
In a banner year for the Peach State, Travis Demeritte has been overshadowed by poster boys Clint Frazier and Austin Meadows. Demeritte does not have the necessary footspeed to stay at short, but he has more than enough raw power to profile at the hot corner. Demeritte has a quick whippy swing and the ball explodes off his bat. His swing is somewhat unconventional and I think there will be a lot of swing and miss in his game. There are rumors that indicate that the Phillies are in on Demeritte at 16, but that might be too rich for him.
32 New York Yankees
It is no secret that the Yanks are in Notre Dame third baseman Eric Jagielo. Jagielo exploded onto the scene when he launched 13 home runs on the Cape last summer and has continued to hit this year. And while Jagielo will never be a plus defender, this spring he has shored up concerns about his ability to stay there, at least in the short term. Jagielo projects as prototypical number 5 hitter in a big league lineup. He should hit for some pop and has a good feel for making contact. He wont be a superstar, but his floor is high and his ceiling is that of an everyday, offensive minded third basemen.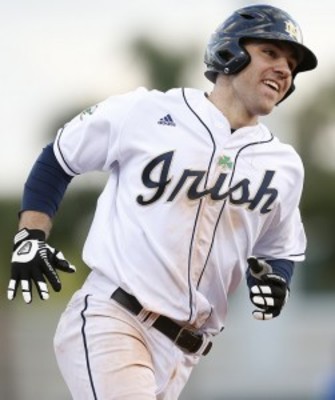 33 New York Yankees
With the last pick in the first round, it will all depend who is left on the board for the New York. One player who shouldn't make it out of the first 33 picks is southpaw Marco Gonzales of Gonzaga. Gonzales is so polished that it seams like he could step into a big league rotation now and at least be a passable 5 starter. Gonzales is undersized and lacks the fastball velocity that guys like Braden Shipley and Ryne Stanek have, but his change up is by far the best in the draft. He knows how to pitch too, and his command and control also grade out as plus. I have heard the Jason Vargas comp floated around here, and I think that is a pretty good one.