Tier 1:
1. Lucas Giolito-RHP
B:
Right
T:
Right Drafted: Round 1 (16) by WAS in 2012
Height:
6'6''
Weight:
225
DOB:
07/14/1994
Bluff:
Highest ceiling of any pitcher in the minors. Possesses heavy fastball that comfortably sits in the mid 90's and he can run up to triple-digits. Pitches have tremendous down-hill plane because of his size. His knock-out 12-6 curve is also a bonafide swing-and-miss pitch. Change-up currently lags behind, but should develop into another weapon for him as he gets more feel for it; should play very nicely off his heater. If he learns how to repeat his delivery and he can continue to log innings, his upside is of a No. 1 starter. Both of his parents are Hollywood actors, so he has that going for him too.
Tier 2:
B:
Right
T:
Right Drafted: Round 4 by WAS in 2010
Height:
6'4''
Weight:
180 DOB
:
01/05/1992
Cole has had a pretty volatile career path; he fell in the 2010 draft and signed by Washington as an over-slot guy, got traded to Oakland, got demoted, and then got traded back to Washington. But he finally settled in a after a mid-season promotion to Harrisburg. In just over 45 innings of work, he put up really impressive numbers that matched the leagues other top hurlers, i.e. Sundergaard, Gausman, Stroman, Workman. He has a lively fastball that sits in the mid 90's and he pounds the strike-zone. He doesn't really have much of a breaking ball, but even if can just develop a decent offering he should develop into a very solid No. 3 starter with the ability to endure a lot of innings.
Tier 3:
B:
Left
T
Right Drafted: Round 1(s) in 2011 by WAS
Height:
6'1''
Weight:
195
DOB:
11/02/1990
Although it may have seemed like a disappointing season of Goodwin, his peripheral stats are still quite good. He has a nice approach at the plate and walked at a pretty solid 12.4 percent clip last year. He gets poor routes in the outfield and if he doesn't improve he will have to move from center. This is key because while although he possesses solid tools all around, he doesn't have the power to profile at a corner. If this is the case he is probably just a glorified fourth outfielder.
B:
Right
T:
Right Drafted: Round 2 in 2013 by WAS
Height:
6'6''
Weight:
235 DOB
:
01/23/1991
Johansen is a big body with a big-time fastball. His curve needs refinement but he does have a pretty nice cutter he recently added. I am not sure if he has good enough command or a deep enough repertoire to stick as a starter, but if not he profiles as a high-leverage reliever or even as a closer.
Tier 4:
5. Matt Skole 1B
6. Sammy Solis LHP
Tier 5:
7. Nate Karns RHP
8. Drew Ward 3B
9. Michael Taylor OF
10. Steve Souza OF
11. Tony Renda 2B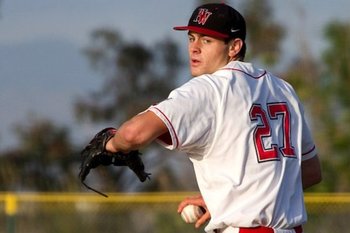 Disclaimer: I am not a scout, I am a writer. Please do not confuse the two, as I would not like to discredit scouts in any way, they are the true backbone of baseball and make huge sacrifices to keep the game the way it is. I only see a limited number of players each year, and compile most of my information from videos, statistics, and occasionally from contacts inside the game.
Tier system:
1. Elite prospects, top 25-30 in the game. All-Star potential (full write-up)
2. Very Good prospects, not enough tools or too risky to be elite; top 100 or so in the game (full write-up)
3. Solid prospects, could be or have been top 100 guys in the past top 100-200 in baseball (full write-up)
4. Big league contributors, but either not a lot of upside or extremely risky
5. Guys worth mentioning